Meg Kennedy, 82, marks 66 years on stage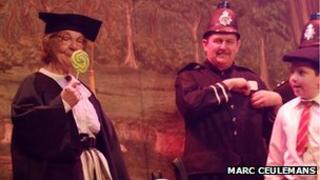 A former post clerk is thinking of ending her pantomime career after 66 years on the stage.
Meg Kennedy, 82, of Westcliff-on-Sea, is currently playing a teacher in Little Red Riding Hood at the Palace Theatre in Southend.
Mrs Kennedy, who founded the amateur group the Wednesday Players, said this year's show will be her last.
She first appeared on stage in 1946 as a pupil in a play about a school scandal.
'Slicker'
"I just love it," she said. "This will be my last performance, but I said that a few years ago."
She started the Wednesday Players after she joined a women's church group.
"I already belonged to Southend Shakespeare Company Theatre at the time," she said. "The church group wanted something to do, so I said I would find something they could do. Then the husbands wanted to join."
Asked about how pantomime has changed over the decades, Mrs Kennedy said: "I think they are slicker and a lot more goes into them.
"We try and keep it clean though with a few double entendres but mainly we really go for family pantomimes."
Little Red Riding Hood, which runs from Wednesday until 20 January, was written by Mrs Kennedy's late husband Joe.