Southend gunman threatened people in house and stole phone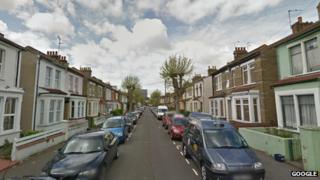 A man threatened people in a house in Essex with a gun, asking "Where is the money?" and stealing a mobile phone.
Two people were outside the house in St Ann's Road, Southend, when they were approached by two men, one of them carrying a handgun.
He ordered one of the people to ring the doorbell of the house, then threatened those inside before stealing the phone and running off.
Some of the seven people in the house pursued the man, police said.
The robbery took place at about 18:00 GMT on Wednesday but was not reported to police until Friday.
Both suspects are white, about 6ft tall and of medium build.
The man with the gun was aged between 19 and 30, with fair eyebrows and blue eyes.
He was wearing a black jacket with the hood up and a scarf was covering the bottom half of his face.
The other man was aged in his early 20s and was similarly dressed.
Police are asking for witnesses to contact them.