GPS plea to paragliders after Joel Kitchen Himalayas death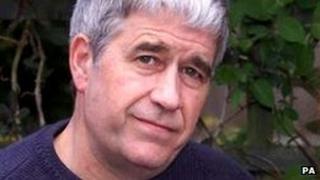 The father of a backpacker who disappeared on a paraglider in the Himalayas has urged others to carry GPS devices in case they get lost.
Joel Kitchen, of Brightlingsea, Essex, was 26 when he vanished in a cloud in a remote area in India in 2002.
Despite extensive searches, no trace of him was ever found.
Bill Kitchen, his father, has called on paraglider users to carry beacons and for improvements in the way searches are carried out in remote areas.
Joel, a chef, was last seen at 11,000ft (3,350m) heading into a cloud as the weather changed over the mountains.
His father and late mother Angie learned of the disappearance from a friend who had been gliding with him.
"He had just disappeared in a cloud one day," said Mr Kitchen.
'Should be a system'
He described his disappointment at learning how, because of the size and remoteness of the Himalayas, the Indian authorities did not carry out a search.
Mr Kitchen ended up funding his own search mission in the mountains. He had help from a handful of Indian Army soldiers but the search was unsuccessful.
A little over 10 years since his son's disappearance, Mr Kitchen said he would like to see an international system set up to ensure governments were recompensed for search efforts.
"There should be a system set up that when somebody does go missing it is checked up swiftly," he said.
"Maybe the local authorities in those countries would then know that they will get recompensed - possibly by governments elsewhere - on the money they spend on searches.
"It would be nice to know there's some kind of link line set up so you could activate something as soon as you know (somebody has gone missing)."
He added: "It is probably not a bad idea for anybody going on a long-distance trek to have some kind of GPS system with them."