Pitsea's £30m regeneration starts with pool demolition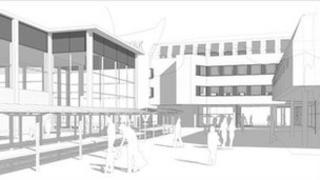 Work has started on a £30m regeneration scheme for the centre of an Essex town.
The first stage, involving the demolition of the swimming pool in the centre of Pitsea, began on Tuesday.
It will make way for a new supermarket, relocation of an existing store, more shops and the refurbishment of the town's market.
Basildon Council attracted opposition over the closure of the pool to make way for the development, construction of which will begin in the Spring.
Malcolm Buckley, cabinet member for regeneration, welcomed the start of the works which were first proposed by the Conservative administration in September 2006.
Plans 'rushed through'
"We are seeing the beginning of a substantial investment by London and Cambridge to make sure we have a town centre fit for the 21st century," he said.
Aidan McGurran, Labour councillor for Pitsea South East who opposed demolition of the pool, said closure and demolition had both been "rushed through".
"They are getting rid of the pool while they can. But if anything goes wrong with the regeneration process then we have lost the pool in the process."
Mr Buckley said that Pitsea and surrounding towns of Wickford and Billericay were likely to see housing developments.
The two supermarkets had carried out market research to show that now was the time to expand into the area.
"Morrisons, who are opening their first store in the borough, recruit their staff from residents living within a couple of miles.
"They are offering about 300 jobs and 150 of them will be full-time.
"That means there's plenty of opportunity in the area which has high unemployment for people to work around any child care commitments."