Rail minister Simon Burns denies £80k chauffeur car bill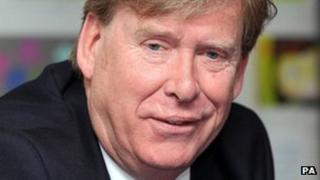 Rail minister Simon Burns has denied his chauffeur-driven car journeys into London are costing the taxpayer £80,000 a year.
Mr Burns has accepted he uses a Department for Transport pool car to take him from his home in Chelmsford, where he is MP, to Westminster.
But, because of "flat rate" charges, he said the car would cost £80,000 even if he did not make the 35-mile journey.
The Essex Rail Users' Association said he had "just angered all commuters".
'No restrictions'
"Pool cars cost a flat rate for the year, for the department, of £80,000 regardless of how many journeys they make or how far they travel," said Mr Burns.
"So, even if the car stopped coming to Chelmsford, it would still have the flat fee put at the same levels."
But, Derek Monnery, chairman of the rail users' association, said Mr Burns's use of a chauffeur-driven car was not easy for rail commuters to accept.
"He could not have done a better job at angering them if he tried," said Mr Monnery.
"For whatever reason he does it (use a car), it just underlines that the service is not good enough."
Cabinet Office officials have confirmed there are no restrictions on ministers taking the "red boxes" that contain their government papers on public transport.