Post boxes blown up with fireworks in Chelmsford area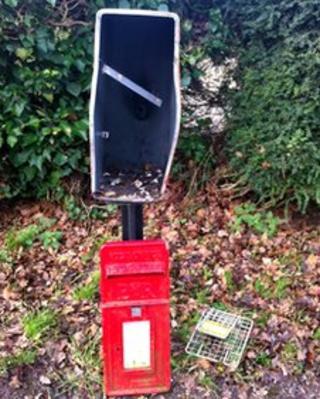 Post boxes have been blown up by vandals using fireworks.
Seven post boxes in villages around Chelmsford have been damaged with at least two having their metal fronts blown clean off.
Louise Hautley described hearing an "almighty bang" when a box exploded in Highwood on Monday night.
Essex Police said the explosions were linked and detectives wanted to speak to the driver of a black and yellow Vauxhall Astra seen in High Easter.
Mrs Hautley said one the letter box fronts ended up in a field.
"It had been blown with some force," she said.
The post boxes damaged on Monday were in High Easter, Great Waltham, Highwood and Mill Green.