Colchester United granted approval for extra training time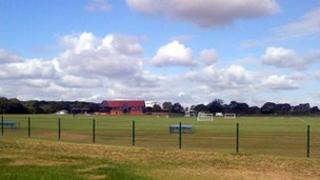 A League One football club in Essex can use its training ground for more than twice its current permitted time, despite complaints about noise.
Colchester Borough Council agreed Colchester United can train at Florence Park for up to 30 hours a week, instead of 12.5, between August and April.
About 100 residents objected to the increased use of the Tiptree ground because of noise pollution.
But the planning committee agreed the extra hours were acceptable.
It agreed to the amended hours by a majority verdict of eight to four.
Colchester United had previously been able to use its training ground from 10:30 to 13:00 Monday to Saturday.
This will be increased to 09:30 to 15:30 Monday to Friday and 10:00 to 13:00 on Saturdays and Sundays during the football season.
The club argued its player development scheme was at risk if the council did not approve its application and said there would be a loss of up to 40 jobs.
Noise level
In September 2011 the club was accused by MP for Witham, Priti Patel, of breaching planning rules and upsetting neighbours with "noise, disruption and foul language".
Planning officers carried out an environmental report and found the noise level did not exceed tolerable limits or give sufficient grounds for refusal.
Tanya Shirley, who lives in a house which backs onto the ground, said she would now consider moving.
"We thought this house would be pretty much for ever but I've been absolutely miserable since I've been here," she said.
"When you are out in the garden when they are playing, it just drones and goes on and on."
Colchester United chairman Robbie Cowling said he was "very pleased and very relieved" with the decision and would look to arrange regular meetings with residents to see if there were any problems.
"We want to be good neighbours and we will keep dialogue going," he said.