Essex County Council leader Peter Martin to step down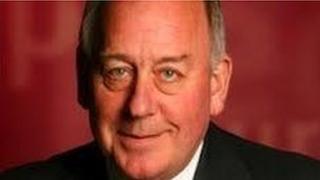 A former businessman who succeeded jailed expenses cheat Lord Hanningfield as council leader in Essex has announced he is stepping down.
In 2011, the peer served nine weeks of a nine-month sentence for parliamentary expenses fraud of nearly £14,000.
His successor as leader of Essex County Council, was Peter Martin, who was then deputy leader.
The 68-year-old said the county council was now in "great shape" and he was leaving to spend time with family.
Mr Martin will be leaving the council at the May elections.
He said: "Twenty-four years has been a large part of my life and the job of leader has been really intensive. I really want to spend some time doing other things."
Mr Martin said he spent the first year of his leadership "changing the culture of the organisation in the way the council was run".
This, he said, had included making the authority more transparent and drawing up a new constitution.