Ashcroft Care Home could face 'further action' says watchdog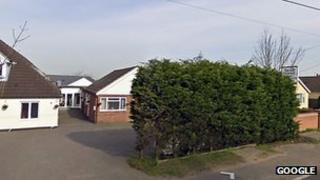 A care watchdog says it is considering further action against the owners of a care home where some residents' requests for food went ignored.
Ashcroft Care Home near Colchester failed to meet four of the five basic care standards set out by the Care Quality Commission (CQC).
All 25 residents at the privately-run home have been moved out after Essex County Council raised concerns.
The home's owner has not been available for comment.
A CQC inspection at the home found residents were at "risk of dehydration and inadequate nutrition".
'No one replied'
The report, published in December, told how, in one case, residents were left more than two hours without the offer of a drink.
On Thursday, the CQC said it was "now considering what further action it might take".
Spokeswoman Helen Gildersleeve said she could not give any more detail for legal reasons but the findings would be published in a new report "in due course".
"Our inspectors identified a number of concerns during the visit," she said.
"These were in relation to cleanliness and hygiene, staffing, the safety and suitability of the premises, the safety, availability and suitability of equipment, meeting nutritional needs, care and welfare of people using the service and the management of the service," she said.
"Essex County Council decided to take action to protect people using the service by moving people to alternative care providers."
Inspectors said they saw several incidents of residents requests for food ignored by staff.
Cereal was left on a table next to one resident who was not able to feed themselves and they had to wait 15 minutes for help, the report stated.
"These people repeatedly made requests which were ignored by the staff," the report said. "One person shouted: 'Can I have breakfast please?' three times before their food was provided.
"One person in the lounge area requested porridge. No one replied."
The residents were moved to another care facility in November.
Essex County Council said had had worked with the owners of Ashcroft Care Home to ensure the well-being of all residents.