Leigh-on-Sea driving lesson targeted by robber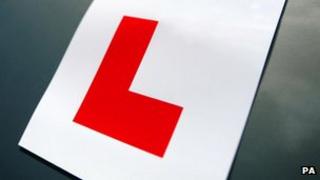 A would-be robber attempted to attack a driving instructor at an Essex junction during a lesson.
The instructor, in an orange VW Beetle, was targeted close to Rayleigh Road in Leigh-on-Sea near Southend, on Friday.
A passenger in a Peugeot 306 that was following the lesson, pulled at the door of the Beetle before shouting at the instructor.
However Essex Police, who have appealed for witnesses, said the learner managed to pull away and escape the attack.
The force said there were two men in the Peugeot, which was driven erratically with its horn beeping before the incident in Belgrave Road. Both men were white, in their late 20s with shaven heads.
Det Con Sam Boyd said: "This model of Peugeot is quite rare these days as they were phased out several years ago.
"We're confident that someone would have seen this interaction as it took place in the middle of Friday afternoon at the junction of a main road.
"We're examining CCTV to see if the incident has been caught on camera, but in the meantime would like to hear from witnesses."