Jay Whiston stabbing: Community 'ripped apart'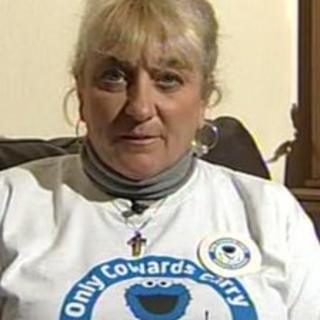 The mother of a teenager fatally stabbed outside a house party in Essex said his death had "ripped a community apart".
Student Jay Whiston, 17, of Clacton, died on 8 September after being attacked in Colchester.
Nine people arrested in connection with his death have had their police bail extended until March.
Caroline Shearer, Jay's mother, said Christmas was going to be "horrendous".
But she said she has had tremendous support from her son's friends and fellow students at Tendring Technical College.
This week they presented her with a cheque for £4,000 for a headstone in memory of Jay.
'Enough is enough'
In October, Mrs Shearer began a campaign for lessons in schools to raise awareness of the dangers of carrying weapons.
She said she wanted to "change the mindset" of teenagers - and younger children - that it was "cool" to carry weapons.
Her Only Cowards Carry campaign has won support from schools and MPs.
The new police and crime commissioner for Essex, Nick Alston, is also a supporter.
Last week he visited Clacton and met Mrs Shearer and her husband, Michael.
On his website he said: "I share their determination to ensure that young people are educated about the dangers of carrying a knife, and that the entire criminal justice system deals with knife crime robustly."
"Enough is enough," Mrs Shearer said. "We need zero tolerance on weapons.
"I'm not going to stand back and let it happen to someone else's parents."
Mrs Shearer said she was getting through the Christmas period one day at a time.
"Jay was our Christmas," she said.
"He was a normal, everyday, loving, caring boy. I always say he had such a huge heart, they couldn't have missed."