Essex Police chief Jim Barker-McCardle to leave in May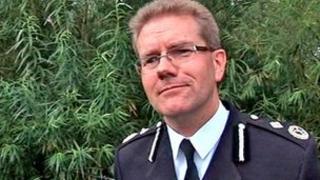 The chief constable of Essex Police will stand down for personal reasons in May 2013, it has been announced.
Jim Barker-McCardle had stated his decision to leave before his contract ended in an email in October.
At the time, Mr Barker-McCardle said he did not want his decision to be linked to the new police and crime commissioner (PCC) elected in November.
Commissioner Nick Alston said Mr Barker-McCardle had been a "fine chief constable".
He added: "I am delighted that Jim has agreed to lead Essex Police well into next year and I look forward to continuing to work closely with him."
Mr Alston also said he had begun the search for a new chief constable.
Mr Barker-McCardle was appointed chief constable on 8 September, 2009, for five years.
During his time in the job he orchestrated a major reorganisation of Essex Police in order to cope with reduced funding.