Flood warnings for River Wid, Stour Brook and Bumpstead Brook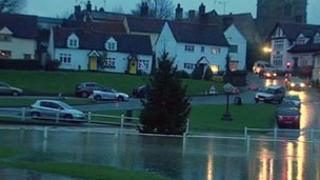 Flood warnings have been issued for two rivers in Essex, the Environment Agency says.
Flooding is expected along the River Wid from Ingatestone to Writtle and at the Stour Brook and Bumpstead Brook on the Essex/Suffolk border.
A warning has also been issued for riverside properties in Chelmsford, including the cricket ground.
In Finchingfield, the village's Christmas tree became partially submerged when a field flooded.
'Simple as that'
At about 18:00 GMT the agency issued a flood warning.
Essex Fire and Rescue Service said it has taken "dozens" of calls from motorists stranded in standing water on Thursday.
Problem areas include Buttsbury Wash, in Bury Lane, Epping, Matching Green, Harlow and Danbury.
Neil Fenwick, from the fire service, said: "It is astonishing just how many motorists have driven their car into flood water and need our help to get themselves, and often their families, out of their predicament.
"If you can't see how deep the water is, don't drive through it, it's as simple as that."