Knife-in-head attacker Kyle Ogilvie guilty of attempted murder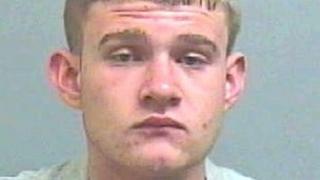 A 23-year-old who stuck a knife into the head of a man outside a house party in Essex has been found guilty of attempted murder.
Kyle Ogilvie, of Station Lane, Harwich, attacked James Johnson, 20, in May in Mill Lane, Harwich.
Chelmsford Crown Court heard Mr Johnson suffered serious injuries in the stabbing. The handle broke off from the knife and he was taken to hospital.
Ogilvie, who had denied the crime, will be sentenced in January.
Det Ch Insp Simon Parkes, of the the Kent and Essex Serious Crime Directorate, said: "Just carrying a weapon is idiotic. Taking one to a fight is pure madness.
"Ogilvie said that he had consumed so much alcohol that he cannot remember the incident. The drink and the knife made a toxic combination."