Roy Sly murder: 'Sadistic torture' killers jailed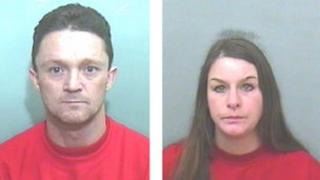 Two people have been jailed for the "sadistic torture" murder of a friend who invited them for a meal in Essex.
Roy Sly, 53, was so badly beaten at the Westcliff-on-Sea house, police could not tell from his face whether he was a woman or a man, the Old Bailey heard.
Vincent Harty, 39, of Shoeburyness, was convicted of murder and will serve a minimum of 30 years.
Lisa Marie Turner, 33, of no fixed address, who admitted the murder, was jailed for a minimum of 20 years.
Mr Sly, a father of three, received 59 separate injuries, with the worst to his colon and genitals, following a night of heavy drinking with Harty and Turner.
The court heard the killers had a history of drink and drug abuse and Mr Sly had been living apart from his wife because of his own heavy drinking.
Mr Justice Saunders said: "It is almost unthinkable that any human being could treat another in the way these defendants treated Roy Sly."
Died in agony
Normal inhibitions were absent from the killers because of damage done by years of drink and drug abuse.
The judge said: "While it is hard to think of more depraved conduct, it would have been much worse if committed while sober and in their right mind."
The hearing was halted briefly after a male dock officer fainted after hearing the harrowing details of the killing.
William Clegg QC, prosecuting, said: "They beat and tortured that poor man until he died in what must have been agony.
"This was a lengthy killing involving considerable violence and sadistic torture.
"His face was so badly beaten that police could not tell whether the corpse they were looking at was that of a man or woman."
After he died, one of the defendants stuck a hypodermic needle in Mr Sly's arm to make it appear that he died from a drugs overdose.
Turner, who was expecting Harty's baby at the time of the death, gave evidence about the torture.
A second man, Peter Smith, 38, of Furnace Row, Troedyrhiw, Merthyr Tydfil, was cleared of murder and discharged.