Basildon Council plans traveller removal next to Dale Farm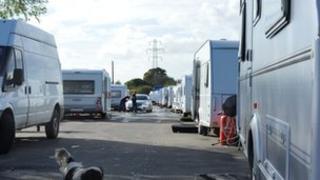 A council has voted to remove travellers living illegally next to Dale Farm, where they were evicted from last year.
Basildon Council has voted for "direct action" to remove the travellers living in Oak Lane, Crays Hill.
However, the action will not be taken until a judicial review lodged by travellers over earlier enforcement notices is resolved.
The Irish Traveller Movement in Britain called for more pitches in the area,
There are between 15 and 20 caravans parked in Oak Lane.
Speaking about the authority's decision to remove the Oak Lane travellers, council leader Tony Ball said the decision was "in line with our determination to enforce and uphold the law but tempered with the need to make sensible and pragmatic decisions based on the situation".
'Law breaking'
He said: "Nothing has changed in our attitude to dealing with illegal development or protecting the green belt, and we remain a local authority that will continue to deal with law breaking and serious breaches of planning control."
The decision comes 14 months after bailiffs and police removed travellers living without permission on Dale Farm, a six-acre former scrapyard, in a £7m operation. There were violent scenes as protesters and travellers resisted the clearance.
Some of those living in Oak Lane previously told BBC News they wanted a site with basic facilities but had nowhere else to go.
Permission has recently been granted for a new, smaller travellers site at nearby Gardiners Way.
It is thought some of the most needy families from Dale Farm could move there once works - expected to take up to two years - are completed.