Harlow fire deaths: Police use Facebook in murder probe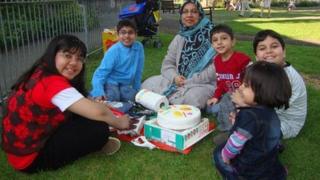 Police have turned to Facebook in a bid for new information about the murder of a doctor and her five children.
Sabah Usmani, sons Muneeb, nine, and Rayyan, six, and daughter Hira, 12, died in a fire started at their home in Harlow in October.
A third son, Sohaib, 11, and daughter Maheen, three, died later in hospital. Dr Usmani's husband, Dr Abdul Shakoor, was the sole survivor.
Essex Police has paid for a Facebook campaign as part of its investigation.
It is the first time the force has bought an advertisement on the social networking site. Police have set aside a three-figure sum to fund the advertising, which will cost the force 30p per click.
'Unimaginably difficult'
The Facebook appeal will target teenagers and adults aged up to 55 and who live in Harlow, via their Facebook accounts.
Det Supt Rob Vinson said: "As Dr Abdul Shakoor has to face the holiday season for the first time without his beloved wife Dr Sabah Usmani and children Hira, Sohaib, Muneeb, Rayyan and youngest Maheen, I hope someone's conscience will lead them to pick up the phone and call detectives or Crimestoppers and tell us the information they know.
"This is one of the biggest and most complex investigations in Essex Police's history.
"We have a large, dedicated team of officers and staff working on Operation Shakespeare," he said.
"Dr Shakoor is a dignified, private man who is grieving for his family in what is the most unimaginably difficult circumstances. If you know something, please call."
Police said in November that the deaths were being treated as murder.