Firefighters and RSPCA rescue fox trapped in car wheel in Grays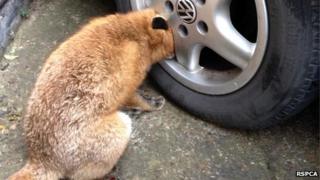 A fox was rescued by firefighters after it was found with its head stuck in the wheel of a parked car.
The Volkswagen vehicle was on the driveway of a house in Ward Avenue, Grays, when the animal became trapped.
Firefighters from Orsett and an officer from the RSPCA were sent to help free the fox on Friday.
The car was lifted using a jack before the wheel - with the fox's head trapped inside - was removed.
It took officers nearly 45 minutes to separate the fox from the car wheel.
Once freed, the fox was taken by the RSPCA.