Basildon new cinema and market plans agreed by council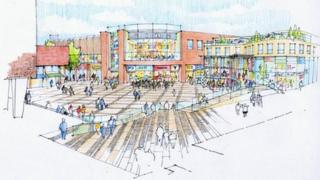 A new cinema, market and bus station are to be built as part of a town centre redevelopment.
Basildon Borough Council's cabinet agreed a masterplan for the town's redevelopment over the next five years.
Longer-term proposals, such as extending the Towngate Theatre, have also been included.
Approval on Thursday by the cabinet means the masterplan has become an official planning document against which applications will be judged.
Malcolm Buckley, cabinet member for regeneration, said: "This is one of the biggest town centre redevelopments in the country and I am delighted the masterplan has been approved.
"We have weathered the storm and now have a really ambitious, but realistic and commercially viable scheme that will transform the town for the benefit of local people, businesses and visitors."
As well as the new cinema, which is expected to have between eight and 12 screens, the town centre blueprint includes a new town centre college, bus station, public squares and up to 2,000 new homes.
The new market is proposed for St Martin's Square.