The Green Man pub bought by Toppesfield villagers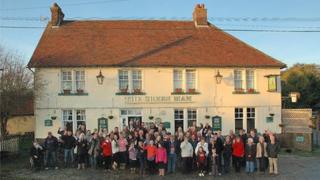 A tavern chain which has been trying for years to sell a rural pub has finally found a buyer - the villagers who drink there.
The community in Toppesfield, near Halstead, Essex, pooled more than £150,000 to help buy The Green Man.
The rest of the money for the Admiral Taverns pub was raised by a mortgage and a "substantial donation" from a charity with links to the village.
The pub now has about 150 owners who share a stake in the freehold.
Alan Collard, chairman of the village group which has bought the pub, said: "To secure the pub's future, when so many pubs around our way are closing down, is a fantastic boost for the community.
"The support and encouragement has been overwhelming and people have voted with their wallets to preserve our local.
"The pub is a vital asset. We are a long way from the nearest town and it is an important place for people to come and meet."
Work on the village pub buy-out started in March. The villagers took ownership of the pub on Friday.
In 2002, Toppesfield villagers built their own village shop and post office. It has been staffed voluntary basis since then.