Missing Southend Harris hawk spotted in cemetery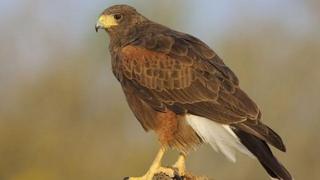 A bird of prey which went missing while being used to scare pigeons has been spotted hunting in an Essex cemetery.
The three-year-old Harris hawk called Riddick belongs to Blackwater Falconry run by Michael Hall.
It disappeared from Stock Road in Southend on Tuesday afternoon and a sighting was later reported at Southend Cemetery.
Mr Hall said the bird was "friendly". He said its tracking device had stopped possibly as a result of power failure.
Three-foot wingspan
"It is one of our pigeon control birds," said Mr Hall, whose hawks were the first to control pigeons at Trafalgar Square in London.
"We usually get them back within 20 minutes because they have a tracker fitted. The transmitter is not working on this occasion. It is possible the batteries are flat."
He said the bird, which has a three-foot wingspan and is slightly larger than a crow, had bells and leather around its legs.
Mr Hall said Riddick was being flown by a trainee at the time and they had since had sightings of the bird in the cemetery.
Asked whether he thought they would retrieve Riddick, he said: "They come back because they are hungry, not because they like us."