Dale Farm eviction: New travellers' site in Essex backed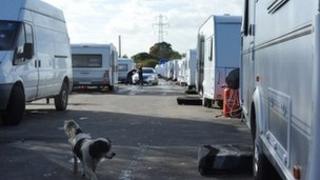 A new travellers' site in Essex, which may become home to some of those evicted from Europe's largest traveller site at Dale Farm, has been approved.
The Irish Traveller Movement in Britain (ITMB) has been given the go-ahead for a 15-pitch site in Gardiner's Way, Basildon, by the town's council.
The development is hoped to be up-and-running in 12 months time, the traveller movement said.
A spokesman added it was applying for a £1m government grant to build the site.
Basildon Council said it would not be a replacement site for Dale Farm, in Crays Hill, and places would need to be allocated on the basis of local need.
Many travellers who were evicted from Dale Farm last year have only moved a few yards down the road to Oak Lane, where they continue to live illegally.
'Over the moon'
The ITMB's proposal for the new land in Basildon includes space for 30 caravans, a children's play area, community building and gardens.
Council officers said in a report to the committee: "The perception of traveller sites is often based on the unauthorised encampments that have occurred.
"In this instance, the applicants are seeking to carry out a development that is well planned and in accordance with best practice to create a well designed and managed site."
Phil Rackley, Labour councillor on the committee, said: "There's a need for these places in Basildon. It is a pity that this was not sorted out before."
Nora Sheridan, one of the travellers who lives on Oak Lane, said: "I'm over the moon that we'll have somewhere to go."
The planning application was accepted despite 20 complaints from residents, who felt the new site would cause traffic problems.
Last year's clearance of 49 illegal pitches at Dale Farm was the culmination of a 10-year battle between travellers, who bought a former scrapyard on green belt land, and the council.