Brentwood celebrates computerised ATM's 40th birthday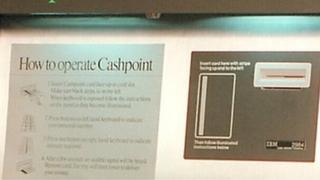 They changed forever the way we bank.
But the birthplace of the first computerised cash machines was not New York or Tokyo but Brentwood, in Essex.
The machine installed at the town's Lloyds Bank building was the first to be linked to a central system that identified customers, who used a card with a magnetic strip and a personal number.
There had been previous machines, such as the very first cash machine installed in Enfield in 1967, but it was operated by customers using a paper voucher, which could be inserted in exchange for a £10 note.
Some early machines even kept the customer's card to be posted back later or collected in branch.
The Brentwood machine was different. It gave customers self-service access to their own account for the very first time, making it the forerunner to the ones customers use now.
'Huge change'
This Essex hole-in-the-wall was developed by Lloyds Bank and International Business Machines (IBM).
Sir Anthony Cleaver, the former chairman of IBM, helped develop cash machines when he was a young engineer.
Unveiling a 40th anniversary plaque in Brentwood, Sir Anthony said: "We started with a little team to define the problem and work out exactly what we needed to do and it turned out what we needed was a way of being able to check the customer's account and see what money that had got in there.
"And once you could do that you could give a card to every customer and that was what the bank was really interested in.
"Then it was a matter of defining how much they could get at a time and so on.
"We had a couple of issues. Once the bank had decided it was what they wanted, I had to get the company (IBM) to build it."
This, IBM, did. The director of IBM's laboratory in Winchester flew out to North Carolina to work on a prototype.
"But we then had an interesting problem," Sir Anthony said.
"We had to test this prototype with actual pound notes and at that time there were exchange controls. You could only take £50 out of the country at a time. But we needed £10,000 in pound notes in the United States.
"I ended up having to go to the Bank of England to ask for special permission. It was sent to a bank in the United States,
"That was just one of the many issues we had along the way."
'Hard to imagine'
Lloyds staff member Graham Lindsay, a junior at the bank's Norwich branch in 1976, said that at the time, the only way a person could access their wages they had to use the counter service.
He said: "It's hard to imagine now, but back in the 1970s many people were paid weekly by cheque or direct into their bank account so customers would come in for cash, especially on a Friday to draw out for the weekend and had to queue up at the counter.
"We had queues out of the door. We needed something new.
"The introduction of cash machines meant that customers were, for the first time, able to access their accounts themselves which was a huge change.
"I still remember explaining to customers how the new cash machines worked and the incredibly positive reaction we got from them."
Asked why the first machine should have been put in Brentwood, borough council leader Louise McKinlay said it has been home to many entrepreneurs.
:"They have often been involved with the cutting-edge," she said. "For example, Brentwood was the headquarters for Amstrad throughout its leading role in the domestic computer market in the 1980s, and is still its HQ today."