Osman threat warnings from Essex Police on the increase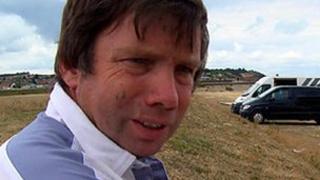 The number of people warned by Essex Police their lives are in danger has nearly tripled in the past four years.
So-called "Osman warnings" are issued when police get intelligence a person is at risk of serious harm and offer them protection.
Responding to a BBC Essex request for information, Essex Police said 88 warnings were made compared with 31 in 2008.
Essex Police said the rise was the result of better administration.
As well as advice, those warned live under increased police patrols and have access to emergency response buzzers.
'Immediate risk'
An Essex-based politician, who asked not to be identified, was most concerned about the threat to relatives after he received a warning.
"There were various threats to my safety, some were more serious," he said. "I had security measures fitted to my home.
"It certainly was not very pleasant and my primary concern was for my family particularly when I wasn't about to be with them. That was my main concern."
He was given advice that included facing the doors of a pub he was in to check who was coming in.
"I was also told to check for escape routes," he said. "This has stayed with me.
"For some members of the public it is a dreadful situation for the victim."
Andrew Gilbert, principle lecturer in law Anglia Ruskin University, said before Osman warnings were introduced, the police "didn't have a duty to warn us in cases in which there was a threat to our lives".
'Looking over shoulder'
"Its ongoing significance is that police have a positive duty to take action where they identify a real and immediate risk to our lives," he said.
A second person given an Osman warning was Len Gridley, who lives in Crays Hill near Wickford.
"I don't think life will ever go back to normal to how it was before the letter," he said. "You'll always be looking over your shoulder wondering who is following you.
"And where did they (the police) get their information from? Was it one person who threatened you? Was it a group that threatened you.
"Everyone who gets one of these letters changes their life forever."
Kate Whaley of Mother Against Murder and Aggression, said: "Anything that forewarns an individual that they are possibly in danger of a violent attack has to be a good thing."
Essex Police declined to comment on how it assesses cases which might lead to an Osman warning.
But guidance given to forces by the Association of Chief Police Officers says if police have credible information about a threat to somebody's life, forces had an "obligation" to take "preventive operational measures".