Dale Farm eviction: Council urged to back new traveller site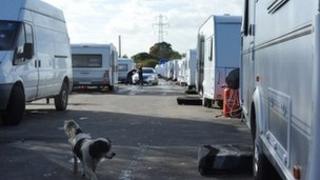 Officers have urged Basildon Council to allow a new home to be built for those evicted from Europe's largest traveller site.
The Irish Traveller Movement in Britain (ITMB) wants a 15-pitch site in Gardiner's Way, Basildon.
If the council agrees on Tuesday, the plot will become home to people evicted from illegally occupied plots on the nearby Dale Farm site last year.
Some of those evicted have been living illegally in Oak Lane, Crays Hill.
The ITMB's plans for the land include space for 30 caravans, a children's play area, community building and gardens.
A report to the authority's planning committee said: "The perception of traveller sites is often based on the unauthorised encampments that have occurred.
'Broken the law'
"In this instance, the applicants are seeking to carry out a development that is well planned and in accordance with best practice to create a well designed and managed site."
It recommends the plans be backed.
But Len Gridley, who lives next to Dale Farm, said the new traveller site should not be approved if it was to be used by those evicted.
"They've broken the law and now could be rewarded by being given plots of land," he said. "They've been offered housing and alternative accommodation."
A spokesman for the ITMB said it wanted the new site out of concern for the travellers in Basildon.
Earlier this year, grandmother-of-four Nora Sheridan, who is living illegally in Oak Lane, told BBC News the evicted travellers in the road just wanted somewhere to live with amenities.