Essex 'Shed City' school getting £8.5m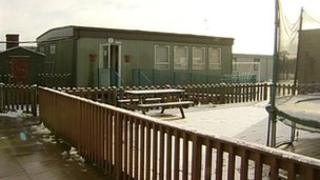 A school in Essex, which was nicknamed "shed city" by its own head teacher, due to the number of classes being taught in temporary buildings, is getting £8.5m for new classrooms.
The county council revealed the funding after a campaign by the Elmstead Market special school's head Gary Smith.
The announcement was welcomed by the Prime Minister David Cameron.
Mr Cameron, who met Mr Smith and pupils in 2010, said it would create "a school fit for the 21st Century".
'Vote of thanks'
Mr Smith said: "I'm over the moon. This is a dream come true. This is fantastic news for wonderful pupils and staff.
"I owe a great vote of thanks to a wonderful set of people who have supported our school.
"But most of all I have the fantastic pleasure of being inspired by our pupils on a daily basis."
Peter Martin, leader of Essex County Council, said: "We need more special school places within Essex and extra provision for post-16 pupils to continue their studies.
"By expanding Market Field we are ensuring that many more Essex children with special educational needs will receive tailored and appropriate schooling."
The proposal includes creating a 140-place school with a 60-place ASD (Autism Spectrum Disorder) unit with possible residential provision.