Essex County Council apology over icy roads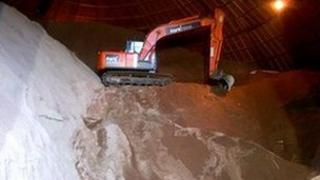 Council officials in Essex have apologised for disruption on the roads after being "caught by surprise" by snow and ice.
One person was seriously injured and 13 others hurt as almost 80 crashes were reported to police between 06:00 GMT and 11:30 on Wednesday.
The county council alerted its gritting team at 04:00 but the vehicles only got on the road between 06:30 and 07:00.
Drivers criticised the response and said gritters should have been ready.
Cabinet member for roads Derrick Louis said: "We rely on weather forecasts.
"I apologise to the people of Essex for the disruption to everybody this morning - I know it has been bad out there and everybody has had trouble getting where they are going.
"Everybody in the county has been caught by surprise. We rely on weather information to determine whether we are going to grit or not."
'Total chaos'
He confirmed it had taken gritting crews three hours to get from their homes and on to the roads.
"We've reacted as quickly as we can."
Ian Lauder, of Wimbish, criticised the county council and described the situation on Wednesday morning "as total chaos" in the Saffron Walden area.
He said he came across no gritted roads on a 16-mile journey which took nearly an hour and a half, adding he passed "many" vehicles which had become stuck.
Filipe Oliveira, of Springfield, Chelmsford, said poor weather conditions were forecast on Tuesday evening and said the council should have got gritting trucks out earlier.
"One wonders how serious these public services are about their responsibilities and duties," he said.