Roy Sly death: Vincent Harty guilty of murder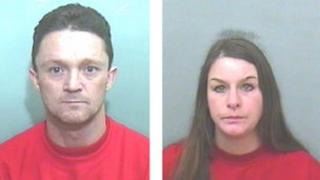 An Essex man has been found guilty of murdering a 53-year-old who considered him a friend.
Roy Sly was found dead at his flat in Westcliff-on-Sea on 10 January with 59 injuries. He had been tortured.
The Old Bailey heard Vincent Harty beat him so badly police could not initially tell whether Mr Sly was a man or woman.
Harty, 39, of Shoeburyness, will be sentenced on 20 December. Peter Smith, 38, of Troedyrhiw, Merthyr Tydfil, was found not guilty of murder.
Mr Sly was found dead at his Station Road home having been subjected to horrific torture over a prolonged period, the prosecution said.
'Died in agony'
It is thought he was attacked for money, as withdrawals were made from his bank account while he was dead or dying.
William Clegg QC, prosecuting, said Mr Sly had been beaten and tortured until "he died in what must have been agony".
After he died, a hypodermic needle was stuck in his arm to make if appear he had died from a drugs overdose, the jury was told.
Mr Clegg said: "His face was so badly beaten that police could not tell whether the corpse they were looking at was that of a man or woman."
Lisa Turner, 33, pleaded guilty to murder on 8 October and was a prosecution witness in the Old Bailey trial.
She and Harty, of Wakering Avenue, will both be sentenced on 20 December.
'Drink problem'
Mr Sly's family said in a statement: "We have lost a very dear father, grandfather, son and brother.
"Nothing can bring him back. We will always love and miss Roy.
"We will never forget the horrific attack Roy was subjected to. He may have had a drink problem, but he had a heart of gold.
"He showed special consideration to his 92-year-old mother whom he had helped care for for many years before she went into a home. Mum still asks for Roy almost a year on.
"We just say 'he has gone away'."