Essex Police investigate holiday sex attack video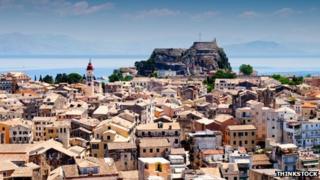 Detectives are trying to trace a woman who was sexually assaulted on camera while unconscious in a hotel on the Greek island of Corfu.
The video handed to Essex Police shows the woman, thought to be in her late teens, on a bed in the resort of Kavos.
Her attacker - believed to have been part of a group of 10 school friends - is shown cutting off her underwear.
The man is then seen on the video carrying out a serious sex attack on the woman.
The victim is believed to be British and was wearing coloured nightclub bands on her wrist.
Holiday montage
A police spokesman said the video was handed in to Harlow police station by friends of the suspected attacker.
The group was on a holiday and a video was being recorded with the aim of creating a montage of the trip.
When members of the group looked over the footage, they came across the assault and decided to hand it in to police.
The video, which lasts several minutes, was handed in on 16 August.
The assault happened during the early hours of 30 July.
Police believe the camera had been placed on a steady surface during the assault and was not handheld.
The Greek authorities and Essex police are in communication over the case.
Det Insp Hayley King of Essex Police said: "We don't know when the young woman returned to the UK or which airport she flew back into.
"We strongly believe that she is from the UK.
"We don't know which hotel it is in Kavos and there are many."
The victim is thought to be from the UK because most of the people staying at the resort at the time were British.