Daws Heath wooden flat pack church opens for worship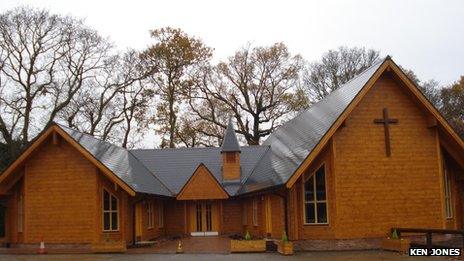 A new church made from logs pre-cut in Scandinavia has been consecrated and opened for worship.
For 90 years members of St Michael's and All Angels in Daws Heath, Thundersley, gathered in a First World War Army hut.
But the hut was too small for the growing congregation and became structurally unsound.
It has now been replaced by a wooden building which the Anglican church hopes will last at least 200 years.
Ken Jones, who supervised the project, said logs for the outer walls were cut to size in Finland before they were sent in kit form to the UK with a team of Finnish builders.
Once the external logs were put up, a team of British carpenters worked inside of the building.
The new church, paid for after the congregation raised about £570,000, features a bell tower with the original 1921 Whitechapel bell, a 2012 lead-framed window and a wooden altar handcrafted by Rob Symonds.
Mr Jones said he was delighted with the result. He said the wooden interior was warm and well insulated.
"It is a modern building," he said. "And it is quite an engineering feat."
He said a number of retired engineers from the area had made regular appearances at the site to watch the church's progress.
The church was consecrated at the weekend by the Bishop of Bradwell the Right Reverend John Wraw.
Mr Wraw said it was the first church he had ever consecrated.
"This is such a lovely building and I think people will rapidly grow to love it and treasure it, And those who have been involved in the project already love it."
Related Internet Links
The BBC is not responsible for the content of external sites.