Daring World War II pilot Ken Gatward's medals auctioned for £41,000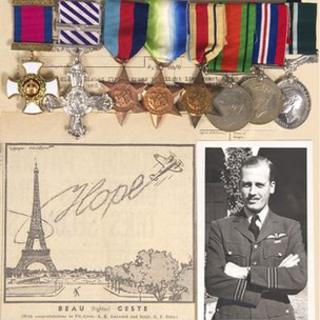 Medals awarded to a World War II pilot who risked his life to drop the French Tricolour over the Arc de Triomphe in occupied Paris in 1942 have been sold for £41,000 at auction.
Wing Commander Ken Gatward, who lived in Essex, flew his Bristol Beaufighter down the Champs-Elysees in the operation to boost French morale.
Colchester auctioneers Reeman Dansie expected the medals would make £8,000.
But the collection made more than five times that figure.
The items were being auctioned following the death of Wing Cdr Gatward's widow.
They had lived near Frinton-on-Sea and Wing Cdr Gatward died in 1998, aged 84.
In a Bristol Beaufighter of RAF Coastal Command, Wing Cdr Gatward and his crew flew over the main streets of the capital at the level of third-floor windows.
People in the Champs-Elysees watched as the French Tricolour streamed from the fuselage of the aircraft and floated down on to the Arc de Triomphe.
The airmen then attacked Gestapo Headquarters dropping another flag in the hope it would fall across the front door.
Wing Cdr Gatward's gallantry was rewarded with his first Distinguished Flying Cross (DFC) in July 1942.
He received a second DFC in September 1944 where he participated in an operation which resulted in the destruction of a German Convoy and, despite sustaining serious damage to his aircraft, flew safely back to base.
He was awarded the Distinguished Service Order (DSO) in June 1944. The medal group are official replacements because the originals were lost.
Press cuttings including cartoons of the Paris attack, original photographs and congratulatory telegrams were included in the lots.