Brentwood council 'blackout' criticised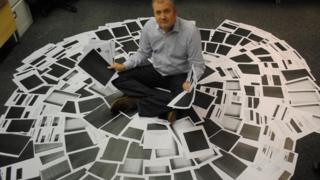 An Essex council has been criticised for responding to a Freedom of Information request by providing 425 mostly blacked out pages.
Russell Quirk put in a request to Brentwood Council for information about plans to develop buildings in William Hunter Way, Brentwood.
The council provided him with a collection of blacked out documents.
Mr Quirk has criticised the council's lack of "transparency", but the council said it was following "good practice".
Mr Quirk, a Conservative Brentwood councillor, said the lack of information in the documents was a "slap in the face" to the claim on its website to have a reputation as one of the most transparent councils.
'Commercially sensitive'
He said he understood some information should be held back for commercial reasons for example.
However, he added: "What I do not understand is how all 425 pages can be deemed 'not in the public interest'. It must have taken a substantial amount of officer time to redact all those pages."
Mr Quirk said he was interested in finding out more information about plans by the council and partners Stockland Halladale to develop the area, including proposals for a cinema.
"I tend to make a fuss about things if I don't feel they are being done in Brentwood's best interests - it seems that the door of transparency has been firmly slammed in my face accordingly," he said.
Mr Quirk said he made the request on 7 November and received a response on 22 November.
After contacting the council, he received a further disclosure on Monday, including about 100 pages of documentation.
"They've sent me more," he said. "Is it information that's tangible and useful? No. It's just more bits of paper."
A spokesman for the Conservative-controlled Brentwood Council said: "We're sorry that it was necessary to provide all the redacted pages in the document but it was our understanding that this is what was seen as good practice by the Information Commissioner.
"Our managing director asked for an independent review of what had been sent out and she was pleased to be able to agree for considerably more information to then be supplied.
"We needed to redact some information because some matters are commercially sensitive, are subject to legal privilege or is information that belongs to third parties. But we continue to monitor this information and we will be sending more when we can."