Broomfield Hospital PFI debt concerns voiced by Unison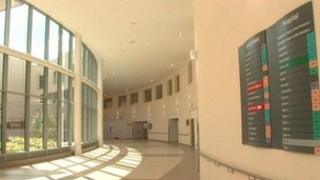 A union has said it has "real concerns" over the debt paid each year by an Essex hospital for a privately-financed wing.
The £148m wing at Broomfield Hospital in Chelmsford opened in 2010.
But Unison said it feared the hospital might have to cut health services or appeal for government help as it pays £16.5m each year in debt.
However, the hospital said it was not having financial problems and expected to make £10m savings this year.
The 365-bed wing is home to an accident and emergency department, a maternity unit and rooftop helicopter landing deck.
Tracey Lambert, of Unison, said: "We have real concerns in terms of the financial numbers for the Broomfield Hospital site.
"This a private finance initiative (PFI) that will end up costing the taxpayers £766m under a contract that runs until 2043.
'Doom and gloom'
"For this hospital, the debt alone is costing the trust £16.5m each year to repay the contractor who built the hospital."
But at a board meeting this week, it emerged the hospital's management had managed to make £9.3m in savings so far and expected to make £16m in savings by the end of the financial year.
Hospital chief executive Malcolm Stamp said: "The problems that we have in terms of money are exactly the same as everybody else in the NHS.
"The debate about PFI is almost sterile," he said. "All this doom and gloom about the financial crisis and going bust, it is a story I don't recognise. We are getting better every day."
He said the payments made to the contractor which built the wing also covered its upkeep and maintenance which meant it should be in good condition in 2043.