Southend Hospital investigates sex offender employment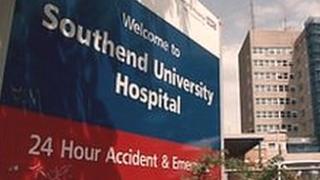 An investigation has been opened into how a known sex offender gained work at an Essex hospital.
Southend Hospital said the person, who has not been named, worked on the outpatients' service and saw eight patients before being dismissed.
The person was hired by an agency on a short-term contract, the hospital said.
Jacqueline Totterdell, chief executive at the hospital, said a "thorough investigation" was under way but added she believed "no-one was put at risk".
Ms Totterdell said: "Southend University Hospital NHS Foundation Trust undertakes stringent background checks before appointing staff and we expect the same of our contractors.
"This person and the company which employed them are no longer on site or working for the hospital."
Southend's Local Safeguarding Children Board said it had become involved in the case because the worker was on the sex offenders register and had come into contact with children.
It is understood no cases concerning individual children have been opened in connection with the person's employment.
A spokesman for the board said it was in contact with the hospital, seeking assurances that all necessary policies and protections were in place.
It is thought the hospital had relied on the agency checking the worker's criminal record bureau (CRB) check status.