Essex crime panel member Tim Young urged to consider resigning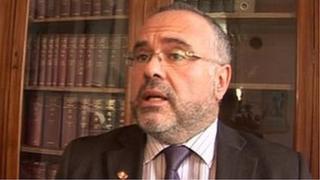 A police union has called on a member of Essex's police and crime panel to consider resigning over his conviction for dangerous driving.
Tim Young was convicted after his car struck a police officer who tried to stop him driving up a bus lane.
Essex Police Federation said police officers felt strongly on the issue and questioned whether Mr Young should remain on the newly-formed panel.
Mr Young said his conviction was spent and that he would not stand down.
Mr Young, Labour group leader on Colchester Borough Council, represents the authority on the panel, which will scrutinise the actions and decisions of the county's newly-elected police and crime commissioner.
Compensation to officer
In June 2001, Mr Young was banned from driving for a year and fined £750 with £850 costs at Chelmsford Crown Court,
He was also ordered to pay £250 compensation to PC Steven Woods, who told the court he suffered light bruising when he was struck a glancing blow by Mr Young's Ford Mondeo.
PC Woods had been directing traffic in Middleborough East, Colchester, in November 2000 when he saw Mr Young driving up a newly-opened bus lane.
The court heard he raised an arm to stop Mr Young's car but it carried on.
Mr Young, who denied dangerous driving, told the court he mouthed "councillor, meeting, town hall" and thought the policeman was waving him on.
He said he would have stopped if he had thought he had hit him.
Judge Jonathan Haworth told Mr Young: "You displayed that afternoon an arrogance that ill became you."
Mick West, deputy secretary of Essex Police Federation, said members were disappointed at Mr Young's appointment, and that many had left comments on the federation's Facebook page.
"This is one of the most serious driving offences you can commit. The victim was a police officer," he said.
"I can't think of a single police officer who would have remained in the job under those circumstances. If that's the calibre and integrity we expect of police officers, why can't we have the same expectations on those who govern and supervise them?
"I would ask him to consider whether he thinks his position is tenable, given the strength of feeling among police officers."
Nick Alston, police and crime commissioner for Essex, said: "The rules of who can be part of the police and crime panel (PCP) are set down by government.
"I will be pleased to work with anyone who is properly appointed to the PCP."
'Superb relationship'
Mr Young said Essex Police Federation had not contacted him personally, but that he would be happy to discuss any concerns.
"I, for one, would not question whether a police officer can still be effective if they had a spent motoring offence," he said.
As council portfolio holder for community safety, he had a "superb relationship" with local police, he added.
"Perhaps Essex Police Federation would like to speak to some of their members who know me in Colchester and then they might revise their opinion," he said.
Mr Young said he had received messages of support from Mr Alston himself, as well as borough council leader Anne Turrell, councillors from the three main parties and members of the public.
"The general theme is that this is a spent conviction for a motoring offence that occurred 12 years ago and in this country you don't get punished twice for the same offence," he said.
"I have no intention in standing down as Colchester's representative on the Essex police and crime panel."