Harwich Bathside Bay port development: Plans withdrawn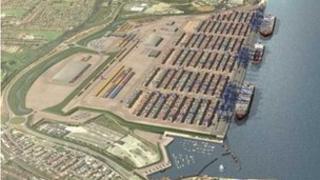 Plans to build a £300m container port in Essex have been put in jeopardy after developer Hutchison Ports UK withdrew its latest application.
Tendring District Council (TDC) said talks between itself, the company and the government will take place next month to try to rescue the development of Harwich's Bathside Bay.
Last month, the government announced a public inquiry over the changes.
The firm said it was concerned at possible delays caused by an inquiry.
In a letter to TDC, Hutchison Ports said that it had taken the decision to withdraw the application "particularly in light of the anticipated costs and delay associated with a call-in and Public Inquiry".
'Not surprised'
TDC leader Neil Stock said the company's decision was a blow but he understood its reasons.
He said: "They must have been absolutely gutted when they heard the government had gone for a public inquiry and quite frankly I am not surprised they pulled the application.
"We constantly hear that planning should not stifle the country's economic growth but then the secretary of state for the department of communities and local government seems to go totally against that edict where Bathside Bay is concerned."
Mr Stock said the development is vital to the economy of Tendring and its regeneration plans.
"I sincerely hope that the delays do not mean that Hutchison Ports feel they would be better off investing elsewhere," he added.