Colchester burst water main: Residents assess damage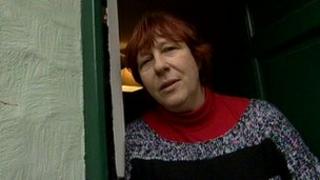 Residents in Colchester town centre have been assessing the damage after a burst water main flooded homes.
Water spurted from the ground on Friday evening at the roundabout where Maldon Road, Balkerne Hill and Southway meet.
It formed large puddles 2ft (0.6m) deep, with 16 homes evacuated.
Anglian Water reconnected water supplies to homes by 23:00 GMT. The council provided sandbags and an emergency rest centre was set up.
Drivers were warned to avoid the Maldon Road roundabout on Saturday while work was carried out to the water main.
'Quite scary'
Resident Sally Messenger told BBC Look East: "I opened the door and there was a river running past my house at a huge rate of knots with the water coming up my path.
"It was quite scary."
She added that Anglian Water had been "really, really helpful", with loss adjusters sent to her home on Saturday.
People had also helped with the drying process by removing sodden items such as rugs, she said.
Anglian Water has said that work to deal with the aftermath of the incident may continue over the coming week.
BBC Look East reporter Felicity Simper, at the scene on Friday night, said gallons of water were "pouring out of the grass" in the middle of the roundabout.
The water formed a "river" around the roundabout and along Maldon Road, she said, and towards Colchester police station.
"On Maldon Road there are houses that are deeply affected by this flood and I'm actually watching a family baling water out of their front door," she said.
"There are a lot of police vehicles stopping people from driving through the flood water and it's too deep in places for cars to get through.
"It's really just a sea of water wherever I look."