Peter Cole jailed for Ambrose Skingle Theydon Bois death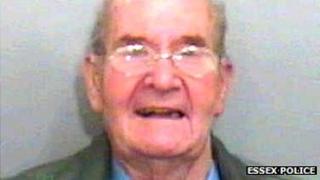 An elderly man who lied about his failing eyesight has been jailed after he killed a pedestrian.
Peter Cole, 87, of London Road in Abridge, struck 86-year-old Ambrose Skingle in Coppice Row in Theydon Bois on 17 January.
Mr Skingle died a few weeks later at Harlow's Princess Alexandra Hospital.
Cole admitted causing death by dangerous driving and was jailed for 18 months at Chelmsford Crown Court and banned from driving for six years.
Cole, who also admitted making a false statement to obtain a driving licence, had been told not to drive by his opticians because of his eyesight problems.
"He chose to continue driving and flouted the law, failing to let the DVLA know his eyesight was not at the required standard," said Sgt Catherine Offord.
"When he was tested after the crash he could only read a number plate at 7.5m (24ft). The legal distance is 20.5m (67ft)."
'Cynical disregard'
Gillian Jones, Mr Skingle's daughter, urged drivers to put the safety of others before their own sense of independence.
"Peter Cole's failure to show any remorse for the suffering he caused my father and ultimately his death has made our grief even more painful and more difficult to bear."
She accused Cole of showing a "cynical disregard for the law of the land and the rights of others".
"Instead of my father crossing the road at that time it could have been a group of children from the school bus; mothers and toddlers on their way to collect older siblings from school - anyone in fact.
"Many people cite the cost of alternative transport. I would point out that Peter Cole lived on a bus route that would have taken him to his destination on the day he fatally injured my father, at no cost to himself thanks to the free bus pass.
"The cost to my father and my family has been infinitely greater."