Essex police panel member Tim Young's conviction sparks concern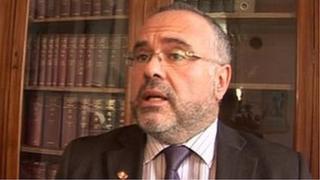 Essex Police Federation said it was concerned after it emerged a member of the county's new police and crime panel had a criminal conviction.
Tim Young struck PC Steven Woods with his car as he tried to stop him driving along a bus lane in Colchester.
Mr Young was convicted of dangerous driving, fined, banned from driving and ordered to pay PC Woods compensation by Chelmsford Crown Court in 2001.
He said the conviction was spent and would not conflict with his duties.
Mr Young is Labour group leader on Colchester Borough Council and cabinet member for planning, culture and safety.
Glancing blow
He will represent the authority as one of 18 members on the panel, which will scrutinise the actions and decisions of Essex's newly-elected police and crime commissioner, Nick Alston.
In June 2001 Mr Young was convicted of dangerous driving, disqualified from driving for a year and fined £750 with £850 costs.
He was also ordered to pay £250 compensation to PC Woods, who told the court he suffered light bruising when he was struck a glancing blow by Mr Young's Ford Mondeo.
The officer had been directing traffic in Middleborough East, Colchester, in November 2000 when he saw Mr Young driving up a newly-opened bus lane.
The court heard he raised an arm to stop Mr Young's car but it carried on.
'Displayed an arrogance'
Mr Young, who denied the charge, told the court he mouthed "councillor, meeting, town hall" and thought the policeman was waving him on.
He said he would have stopped if he had thought he had hit him.
Judge Jonathan Haworth told him: "You displayed that afternoon an arrogance that ill became you."
After his arrest, Mr Young, a borough councillor since 1992, was de-selected as Labour's candidate for Colchester in the 2001 General Election.
Following his conviction, he resisted calls to stand down as chairman of a council committee.
Mick West, deputy secretary of Essex Police Federation, which represents rank and file police officers, said: "Whilst I would like to look at the matter further, I would share some disquiet about somebody being convicted by a jury having membership of such an influential policing panel.
"Whoever appointed him may wish to review their decision."
'No relevance'
The police and crime panel is administered by Essex County Council, which said it would not comment on the "private matters" of members.
"Each panel member, except for the independent members, has been appointed by their respective county, district or borough council to sit on the panel," he said.
Mr Alston, who was sworn in as Essex's police and crime commissioner on 22 November, said the conviction did not concern him as it was spent.
A spokeswoman for Colchester Borough Council said as an elected member, nothing precluded Mr Young from sitting on the panel and a Home Office spokesman confirmed this.
Mr Young told the BBC: "It's a spent driving conviction. There's no conflict whatsoever.
"I can't believe anybody is dragging this up. Lots of people have driving convictions in the dim and distant past.
"It has no relevance or impact on my duties on the panel."