Chelmsford Urim Rama killing: Jamie Waters jailed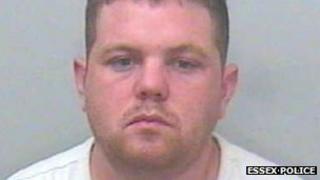 A man has been jailed for five years for the manslaughter of an electrician who came to the aid of a couple.
Urim Rama, 27, died in hospital after he was punched in the face in Duke Street, Chelmsford, on 19 August.
Mr Rama intervened when he saw Jamie Waters, of Andyk Road in Canvey Island, threatening a couple. Waters had already thrown a bottle at them.
Waters, 29, admitted manslaughter and was jailed for five years by a judge at Chelmsford Crown Court.
Brain injury
Waters and a friend were drunk when Waters threw a bottle at a man and his girlfriend in Duke Street. The pair then approached the couple and threatened them.
London-based Mr Rama, who had been living in the UK for 11 years, intervened and appealed to them not to fight but to walk away.
Speaking after the case on Wednesday, Det Insp Martin Pasmore said: "His actions were entirely passive and he initially calmed the situation, allowing the couple to walk away.
"Whilst Mr Rama continued to talk to the other man, Waters surreptitiously walked to the side of Mr Rama and, without warning, punched him once the face."
Mr Rama was knocked out and hit the ground, suffering a fatal brain injury.