Southend gallery owner Brian Davis brands raider 'stupid'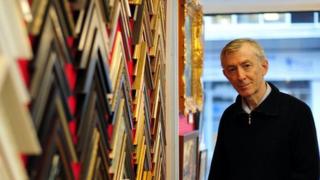 An armed robber fled after he was told by his intended victim "don't be stupid".
The raider ran off after challenging Brian Davis, who runs the Chartwell Gallery in Southend.
Mr Davis, who has run the gallery for 30 years, said the man flashed a gun at him after looking at pictures on Friday.
"He said quite calmly 'I'm going to rob you'. I immediately said 'no you're not'," said Mr Davis.
Police are appealing for anybody with information about the man, who was smartly dressed, to come forward.
'Just disappeared'
It is understood the same would-be robber then went into a bookmaker's in West Street.
Mr Davis told how he first noticed the man when he was outside the gallery, looking at some of the pictures in the window.
"He said he was looking for a cheap picture for a present," Mr Davis said.
"He turned to go to the door but then he turned to me, he unzipped his jacket and I could see a gun tucked in his waist band."
As well as branding him stupid, Mr Davis told the robber "do you realise what you're doing?".
"He said, 'Oh I'm very sorry' and he left," Mr Davis continued. "He just disappeared."
Although he was initially shaken, Mr Davis said he had now recovered.
"It was very bizarre," he added.
The raider is understood to have threatened a cashier at the bookmakers with a handgun and demanded money.
Police said the cashier ran to the back of the shop and the man left empty handed, turning into West Street.
He is described as white, of slim/medium build, in his 30s or 40s with a shaven or balding head and wore a navy blue, zipped-up anorak, dark jumper, black trousers and black trainers.
Det Con Layla Barker, of Essex Police, said: "The picture of the man is very clear and I hope someone will recognise him and give us a name.
"Fortunately no one was injured in these two incidents but we need to identify the man as soon as possible."