Margaretting Tye farmland in Environment Agency probe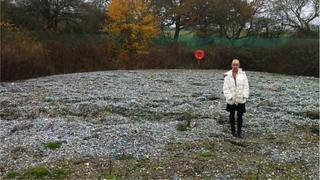 An investigation is being carried out into whether medical waste was dumped illegally on Essex farmland.
Hard core, building materials and plastics are among the rubbish deposited at Little Tressels Farm in Margaretting Tye, near Chelmsford.
Chelmsford City Council said it was aware the site was being used as an "unofficial landfill" site.
The Environment Agency said it was investigating a number of firms in connection with illegal waste dumping.
One barn at the site is filled with piles of building rubbish.
Alison Taylor, who lives next to the farmland, said: "You can see window frames and plastics. It is not household waste."
She said she was trying to sell her property but was unable to do so because of the waste next door.
Mrs Taylor said she was "convinced" some of the waste in a former slurry lagoon is "hospital waste".
Harry Blurton, of Margaretting Parish Council, contacted the Environment Agency after he saw trucks full of rubbish travelling to the farm earlier this year.
The Environment Agency said it was investigating a number of businesses over the possible illegal depositing of waste and is looking to see if any of the materials were medical waste.
There is no evidence so far that any of the waste is hazardous, the agency has said.
The BBC tried to contact the previous owner of the land, but was not successful. The current owner of the site is understood to be a loan company.