Norfolk police uniform shirts set for switch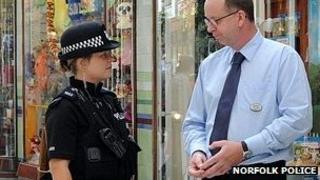 Police in Norfolk are bringing back white shirts and black ties to help usher in a "return to the traditional image of policing".
The force faced criticism in 2008 when it introduced zip-up black shirts and combat trousers.
Research now suggests people regard police as "more professional, honest and approachable" in a collar and tie, the force says.
The new uniform will be trialled by officers in Wymondham from January.
It is not yet clear how much the switch would cost if rolled out to all of Norfolk's 1,500 officers.
In 2008, the force said its black shirts and combat trousers were "more practical and hard-wearing".
'Professional and smart'
But a police spokeswoman said that decision was now being reviewed.
"The white shirt sees a return to the traditional image of British policing with a collar and tie replacing the black zip-up polo shirt," she said.
"Independent academic research has identified the public regard the time-honoured image of police officers as more professional, honest and approachable."
Chief Constable Phil Gormley said: "We are mindful of our financial challenges and, in these times of austerity, we would work to minimise any additional cost and achieve economies of scale in the event of a change in officer uniform.
"This new shirt, which has been successfully adopted by the Metropolitan Police, is designed to meet the rigours of modern policing while enabling officers to project an image that is as professional and smart as the service they deliver."
Dave Benfield, general secretary of Norfolk Police Federation, said it was a move likely to be welcomed by the rank and file.
The force introduced the modern black uniform to the public in a catwalk show at the Royal Norfolk Show four years ago.
The final decision on a return to the collar and tie will be based on feedback from officers and members of the public.