Roy Sly murder trial: Old Bailey hears of 'torture'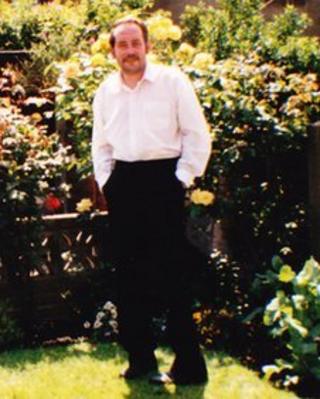 A man whose body was found in his Essex home was so badly beaten that police could not tell if the face was that of a man or woman, a court has heard.
Roy Sly, 53, was tortured and killed by friends who turned on him at his Westcliff-on-Sea flat in January, jurors at the Old Bailey were told.
Vincent Harty, 39, of Wakering Avenue, Shoeburyness, Essex, and Peter Smith, 38, of Furnace Row, Troedyrhiw, Merthyr Tydfil, deny murder.
Mr Sly sustained 59 injuries.
Lisa Marie Turner, 33, of no fixed address, pleaded guilty to murder in October.
The court heard how Mr Sly, who lived on Station Road, had bought steak and wine for his three guests.
'Died in agony'
At midnight, one of them cleared his bank account of £105 at a cash machine.
Mr Sly was later subjected to torture and beating, the jury heard.
William Clegg QC, prosecuting, said: "The three of them beat and tortured that poor man until he died in what must have been agony."
After he died, one of the defendants stuck a hypodermic needle in Mr Sly's arm to make if appear he had died from a drugs overdose, the court heard.
Mr Clegg added: "His face was so badly beaten that police could not tell whether the corpse they were looking at was that of a man or woman."
Jurors were shown pictures of mannequins to demonstrate the multiple injuries to Mr Sly's head and body.
The trial continues.