Essex police chief Jim Barker-McCardle to 'stand down'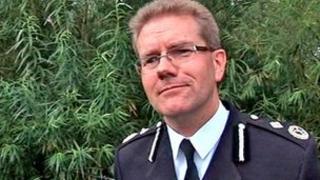 The chief constable of Essex Police intends to stand down before the end of his contract, the BBC understands.
Jim Barker-McCardle stated his decision in an e-mail to all Police and Crime Commissioner (PCC) candidates on 26 October, sources have confirmed.
They said the e-mail stated he had told the police authority of his intention to leave for personal reasons, but he has not set a date for his departure.
Essex Police said all PCC candidates were told before the election.
Sources confirmed Mr Barker-McCardle's e-mail explained he did not want his decision to be linked to the new Police and Crime Commissioner.
A force spokesman said: "The priority of the chief constable is to welcome the newly elected Police and Crime Commissioner to ensure the very best police service is delivered to the diverse communities of Essex.
"As a courtesy, the chief constable wrote to all PCC candidates before the election about his future plans, but his current focus remains firmly on supporting Nick Alston in the weeks ahead and policing Essex."
A spokesperson for Mr Alston said: "He takes up the office of Police and Crime Commissioner (PCC) for Essex on November 22.
"During the course of the PCC election campaign, as a courtesy, Chief Constable Barker-McCardle made all candidates aware of his medium term plans.
"The PCC greatly looks forward to working with the Chief Constable, who has tremendous policing knowledge and experience, from November 22 onwards."
Mr Alston will be not giving any further interviews until he becomes PCC for Essex.