Brightlingsea Harbour barge pontoon crash causes at least £30,000 of damage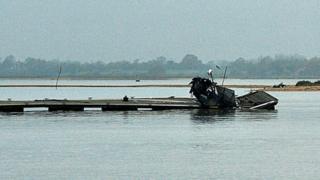 A 2,800 tonne motorised barge caused at least £30,000 of damage when it crashed into a wooden pontoon used for small vessels in an Essex harbour.
The 288ft (88m) Calamar was manoeuvring into the harbour in Brightlingsea in fog when the accident happened.
Five boats suffered cosmetic damage and one dinghy was destroyed.
Bernie Hetherington, chief executive of the harbour, said an investigation was being carried out into the cause of the collision on Thursday.
'Poor visibility'
Fishermen had to leave their boats when the barge hit the pontoon, but no-one was hurt.
"I can confirm visibility was poor," Mr Hetherington said.
Mr Hetherington said about 40m (131ft) of pontoon would have to be replaced, with the materials alone costing between £30,000 and £40,000. He said the final bill would be "a significant amount".
More damage could have been done but for the fact the vessel was travelling very slowly, added Mr Hetherington.
The Calamar came off the damaged pontoon under her own steam and continued to her own berth where she was loaded up with wood chip for export to Sweden.