Apple iPad driver caught by Essex Police Mercedes truck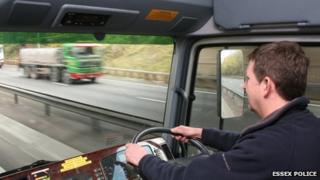 An articulated lorry has been brought in by Essex police for covert patrols on the county's roads.
The force's articulated Mercedes Actros used to be used as a mobile operations base and for exhibitions.
The lorry now sits alongside the constabulary's fleet of Fords and BMW cars.
One of those already caught by the lorry was a man using has Apple iPad device on his lap - something officers say they would not otherwise have seen.
PC Gary Winfield said the use of the iPad was the "worst thing we've seen".
"He was using it at 56mph on a dual carriageway," he said. "It is frightening really."
Because of the height of the cab, officers inside can see both into other lorries and down into cars.