Essex poppy tin theft suspects named by police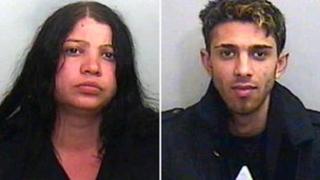 Two suspects wanted over alleged thefts of poppy appeal collection tins in Essex have been named by police.
Lulia and Liviu Ghitoi, believed to be from east London, are suspected of stealing charity tins from three stores in Hockley and Rochford on 11 November.
The pair are also wanted in connection with a mobile phone theft from a shop in Witham in September.
Police are appealing for witnesses. It is believed the pair, aged 31 and 22, took £150 from one charity tin.
The suspects are believed to be from the Barking area of London, police said.
The poppy tin thefts occurred at Costcutter in Hockley, and Tates Spar and Saunders Food and Wine in Rochford during the afternoon of Remembrance Sunday.
Costcutter owner Peter Woods said the theft was "disgraceful", adding: "If they've got any respect they will give it back, give it to the Royal British Legion."