Queen Victoria's underwear auctioned in Colchester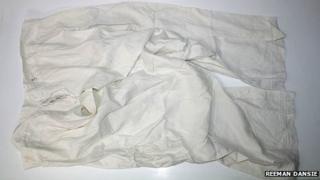 Queen Victoria's underwear and a piece of the Duke and Duchess of Cambridge's wedding cake are among items of Royal memorabilia to be auctioned in Essex.
The items feature in 150 lots to be sold in Colchester on Tuesday.
Auctioneer James Grinter said a "rare" silver apple commissioned by Princess Diana "had caused a lot of interest".
Given as a gift to her dresser Fay Appleby, to mark their first visit to New York in 1989, auctioneers Reeman Dansie expect it to sell for £3,000.
Mr Grinter said: "People just like to own something that has been touched by the Royal Family. These items are very difficult to come by, but we are lucky enough to handle a lot of it."
Auctioneers Reeman Dansie have sold items of Royal memorabilia since 2008 after handling the collection of the Queen Mother's butler William Tallon.
Mr Grinter said items linked to Princess Diana remained popular but it was "the more personal objects" belonging to the Queen that excited collectors.
The auction includes a programme from the 1944 Royal Pantomime Old Mother Red Riding Boots.
Written by and starring The Queen, then Princess Elizabeth, and Princess Margaret, the production was performed to their parents at Windsor Castle.
Signed in blue ink by the cast, including princesses Elizabeth, Margaret and their nanny Crawford, it is estimated to sell between £500 and £700.
Prince William and the Duchess of Cambridge's wedding cake is in a presentation tin, valued at £200 to £300.
The auction of 150 lots is expected to raise between £70,000 and £80,000.