Harlow fire deaths: £10,000 reward for information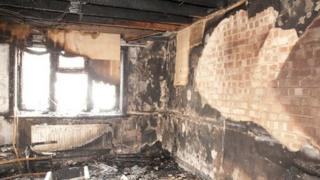 A reward of up to £10,000 is on offer to find information about how a family died in a fatal house fire in Essex.
Sabah Usmani, sons Muneeb, nine, and Rayyan, six, and daughter Hira, 12, died at their home in Harlow.
Sohaib, 11, and daughter Maheen, three, died later in hospital. Dr Usmani's husband, Abdul Shakoor, was the only survivor of the fire on 15 October.
Crimestoppers offered the reward for information leading to the conviction of anyone responsible for the deaths.
A Crimestoppers spokeswoman said that the cause of the fire is yet to be established.
The only crime recorded at the house in Barn Mead is a burglary before the fire broke out.
Dr Shakoor's Toshiba laptop is missing from the house and a bag in which it was kept has been found near lock up garages in nearby Whitewaits.
Ann Scott, from Crimestoppers, said: "This is an absolutely heartbreaking incident which has devastated and shocked the entire community."
Information is particularly wanted about four people seen outside the house in the early hours of 15 October.
They are described as aged between 16 and 19 and wearing tracksuits and baseball caps.
There were also two others on bikes. The first is described as 15 to 18 years old with ginger or light brown hair. He was wearing black jogging bottoms with stripes down the legs, a hip-length anorak style jacket with a hood and was riding a light coloured bike.
The second was riding a black mountain bike, is described as 16 to 18 and was wearing a light grey top.
Police are also investigating two unsuccessful attempts to break into other properties in Harlow on the evening of the fatal fire.